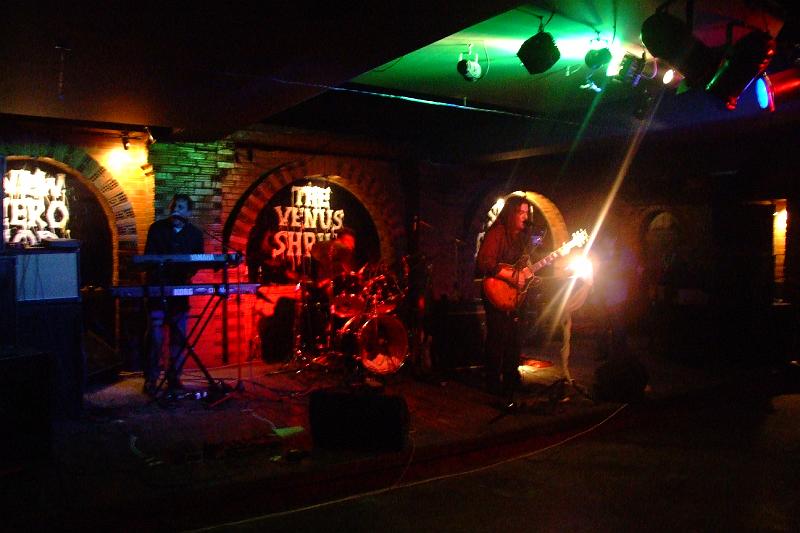 Split Image were formed in late 1981 in Corfu, Greece. The first line up was consisted by George Scordilis (guitar, voice), Alex Mesimeris (drums), Kostas Veronikis (bass). In 1983 they moved to Athens. In late 1984 the line up changed to George Scordilis (guitar, voice), Giannis Charalambidis (keyboards, ex Anypoforoi), Stathis Papandreou (drums, ex Adiexodo), Lambros Gatsoris (bass), (see photo), performing many live shows and looking for a label. There were several lineup changes between the two schemes with musicians not mentioned here.
The band stopped playing at the end of 80's due to various external factors and reasons. The group was based on the songwriting partnership of George (guitar, voice, programming) and Giannis (keyboards, backing voices, e-base) who continued in the early 90's to rehearse, record and play at various parties their old material with the help of sequencers giving the songs a classical touch, always in the dark side, with the addition of plenty of string and wind instruments.
Several inactive years followed when in 2007 they both met and decided to revive their old material along with anything new. The idea of sequencers was dropped and needing the feel of something live and real with the addition of Stathis Papandreou at drums and Erianna Tzanelli at bass have commenced rehearsing again. Playing tunes that haven't been played for over 20 years is not the easiest thing but it's looking good and  promising.
Live performances commenced in May 2008 at Playhouse Gotique N3, followed by several other plays, with positive feedback, for which we are more than thankful. Fresh recordings and further live shows are due to follow.
Τheir first album with the title "Exposure" was released in January 2012 by Dead Scarlet. In May 2015 they released a 7'' with two brand new songs (Time is not my friend ~ A muse).